Associate Veterinarian - ER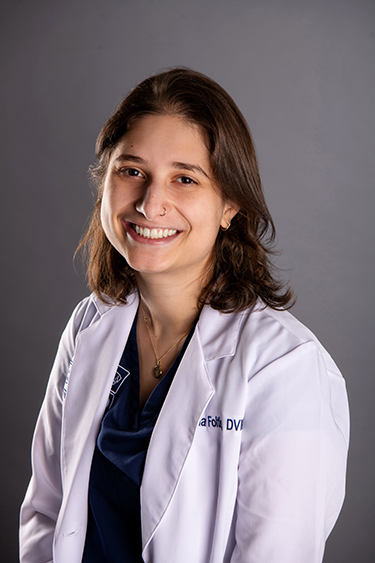 Eliana Foltin, DVM
Dr. Eliana Foltin is an associate veterinarian and part of the 2022-2023 rotating inter class at Pieper Veterinary. Originally from the DC metro area in Maryland, she graduated from Binghamton University and obtained her degree in veterinary medicine from the University of Illinois Urbana-Champaign. While in Illinois, she was heavily involved in the student-run wildlife clinic and especially enjoyed working with the feisty raptor patients. She has special interests in emergency medicine, wildlife, and exotic animals.
Dr. Foltin was a student researcher for the wildlife epidemiology laboratory and worked on various research projects involving wild and pet exotic animal species, including fieldwork, lab work, and data analyzing. She worked with snapping and box turtles, lizards (bearded dragons, skinks), and snakes, including being trained in the handling of venomous snakes. Dr. Foltin is the primary author for a publication in Journal of Herpetological Medicine and Surgery on the treatment of bearded dragons with Nannizziopsis guarroi (fungal infection), and has presented at the Exoticscon conference on developing a system to determine the body condition of bearded dragons using CT data.
Dr. Foltin appreciates the creative thinking and problem-solving challenges that she encounters every day in her work as a veterinarian. Improving the quality of her patients' lives and being able to make a difference, especially in emergency cases, is the most rewarding part of her job. Dr. Foltin lives with her pet bearded dragon "Mim," and when not working she enjoys exploring new areas, hiking, pottery, and trying all the dips at Trader Joe's.
Special Interests:
Exotics and wildlife
Emergency medicine