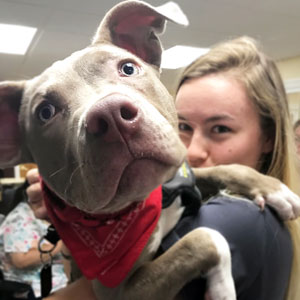 Upon arrival, you will be greeted by a receptionist and your pet will be evaluated to determine if it is in stable condition or should be seen immediately by a veterinarian.
We have staff members who can assist you with bringing your pet into the hospital if necessary.
Triage
If we are concerned that your pet may be unstable, we will bring them into our treatment area to be examined by a doctor. A brief form containing your pet's health information and which treatments or diagnostics you consent to must be filled out prior to speaking with a doctor.
If your pet appears stable, staying with you in the waiting room will help them feel calm and relaxed. A veterinary assistant will invite you into an exam room to take vital signs and consult with a doctor as soon as possible.
Consultation
One of our veterinarians will perform a full physical exam of your pet, spending time with you to understand the conditions that led you to our emergency facility. A medical plan consisting of diagnostics and treatment options will be provided, including an estimate of cost.
Outpatient care
Many pets are treated and able to return home the same day to continue care with their primary care veterinarian. Our 24-hour on-site pharmacy is available at your convenience for any prescription needs.
Inpatient care
Some patients need to be hospitalized for ongoing diagnostics, monitoring, and care. You will be able to speak with a doctor and other support staff daily, and visitation is encouraged. If you wish, you may transfer your pet to your primary veterinarian for continued care once they are open.
Progress and medical records
Our medical notes, lab test results, and diagnostic imaging reports are available to your veterinarian through an online portal system. Your veterinarian will be notified within a few hours of your pet being admitted to our hospital. Our doctors regularly call to discuss your pet's care with your primary care veterinarian throughout their time here.
Working with your primary care veterinarian
Your general practice veterinarian is an important part of your pet's health and we work as an extension of their services when advanced or after-hours treatment is necessary. We will notify your veterinarian that your pet visited our ER, and provide them with treatment and follow-up information to continue your pet's care once you leave our hospital.