Veterinarian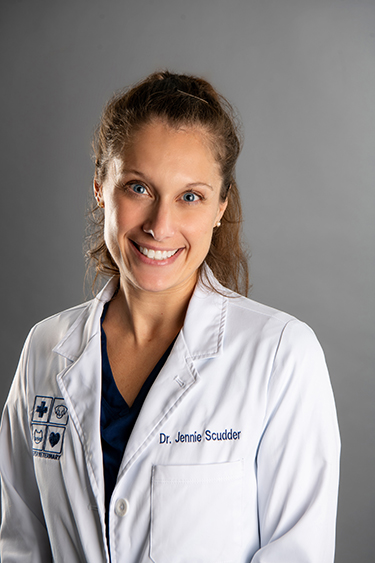 Jennie Scudder, DVM, CVA
Dr. Jennie Scudder is a primary care veterinarian working at Pieper Veterinary since 2022. originally from Cape Cod, Dr. Scudder graduated from the University of Vermont with her BS in 2005 and her MS in 2009, and achieved her DVM from Western University College of Veterinary Medicine in 2013. She has practiced medicine in Connecticut and Massachusetts, and is excited to join the Pieper team. She is a member of the American Veterinary Medical Association (AVMA) and has special clinical interests in helping patients with chronic illnesses, geriatric patients, preventative medicine, dentistry, soft tissue surgery, and acupuncture.
Dr. Scudder is a member of the World Association of Traditional Chinese Veterinary Medicine (WATCVM), and is currently working towards her certification in veterinary Chinese herbal medicine. She attended Chi University and graduated as a certified mixed animal acupuncturist (dogs, cats, and horses).
When not working Dr. Scudder enjoys learning how to play the ukulele and spending time outdoors with her family of her husband, two sons, and her two dogs Roxy and Linus. Her favorite part of her job is getting to know each patient as an individual and developing personalized care plans for both the patient and their human families.
Special Interests:
Chronic illness management
Geriatric patients
Preventative medicine
Dentistry
Acupuncture
Soft tissue surgery