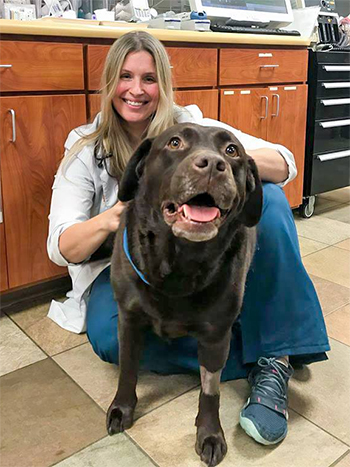 Some emergency situations are obvious. However in some cases you may be uncertain whether your pet's symptoms are serious enough to warrant immediate attention, or if they may be able to wait until your family veterinarian's regular business hours.
Please feel free to contact us if you have questions or need guidance about your pet's specific condition.
If your pet is experiencing any of these symptoms or situations, we recommend bringing them to the closest available veterinary hospital immediately:
Disease or illness:
Difficulty breathing, with or without a cough
Stumbling or falling, dragging or not using legs, collapse
Sudden changes in behavior, such as bumping into things, acting disoriented, acting anxious, acting painful, or hiding
First time seizures, seizures lasting more than three minutes, multiple seizures in a short time
Straining to urinate small amounts or not at all
Profuse or prolonged (>24hrs) vomiting and diarrhea, especially if containing blood
Non-productive vomiting or retching
Distended abdomen
Severe skin reactions such as facial swelling, or surgical incisions that appear open
Trauma:
Bite wounds, wounds of unknown origin, chemical or thermal burns
Eye injuries
Vehicular injuries
Falls from high places, blunt force trauma
Hot car confinement, heatstroke
Bleeding
Ingestion:
Foods such as chocolate, grapes/raisins, gum or baked goods with xylitol
Human medications, both prescription and over the counter
Plants such as lilies, wild mushrooms, or marijuana
Household chemicals such as antifreeze, mouse or rat poison
Non-digestible objects (socks and clothing, toys, rubber, rocks, ribbons and string, etc)
If your pet has ingested a cleaning, health-care, or other product, bring the product's packaging or label with you when you bring your pet to the emergency room. If you have questions on how to best transport your pet or questions about your pet's specific case, we can be reached 24 hours a day at 860-347-8387.
Animal Poison Control
Call 888-426-4435
Includes a fee
The ASPCA Animal Poison Control Center is available 24/7 for you to call in case of emergency. In addition to helping with emergencies, the Poison Control experts can provide you with valuable information on how to recognize and protect your pet from poisonous and toxic substances.