Boarded Avian Specialist and Exotic Animal Veterinarian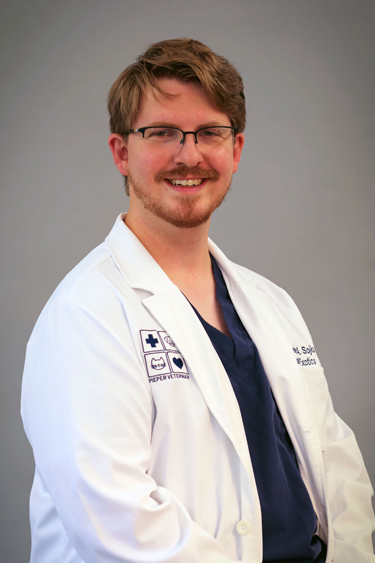 Peter A. Sojka, DVM, DABVP (Avian Practice)
Dr. Peter A. Sojka is an Exotic Animal Veterinarian specializing in Avian practice at Pieper Veterinary. Originally from Omaha, Nebraska, he graduated from the University of Nebraska-Lincoln in 2013 and the Iowa State University Professional Program in Veterinary Medicine in 2017. He has completed courses in microsurgery and endoscopy for avians, reptiles, and exotic mammals, and was a co-instructor for an externship at the Belize Zoo. Dr. Sojka completed an American Board of Veterinary Practitioners (ABVP) Avian and Exotic Companion Mammal Dual Residency at the University of Tennessee College of Veterinary Medicine in 2021. This residency allowed Dr. Sojka the opportunity to work with both privately-owned animals as well various zoos, aquariums, and animal sanctuaries.
Dr. Sojka is a member of the American Board of Veterinary Practitioners, the Association of Avian Veterinarians, and the American Association of Zoo Veterinarians. He has published multiple scientific journal articles and has presented at the American Association of Fish Veterinarians Annual Conference and the Association of Avian Veterinarians Annual Conference.
After volunteering at the Omaha Zoo during high school and witnessing the complex veterinary care that they provided to their animals, Dr. Sojka has always been fascinated by working with amazing exotic animals. His favorite part of his job is the variety of patients that he gets to work with - whether it's an invertebrate, fish, amphibian, bird, reptile, or mammal, getting to diagnosis and treat the problem and improve the quality of life for both the patient and the owner is always the most important thing. When not working he enjoys hiking, biking, traveling, planning his wedding with his fiancée, and visiting theme parks. He and his fiancée (along with their dog Elsa and their fish) are new to Connecticut but excited to explore the area and see all that there is to offer.
Special Interests:
Endoscopy
Microsurgery
Cancer diagnosis and treatments