Boarded Surgeon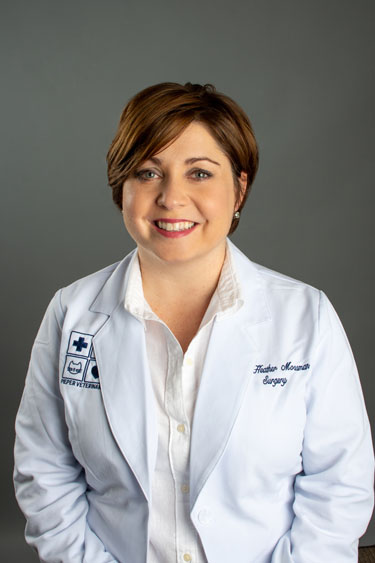 Heather Mossman, BVSc (dist), Diplomate, American College of Veterinary Surgeons - Small Animal
Dr. Mossman graduated from Kalamazoo College before attending veterinary school at Massey University in New Zealand, where she graduated at the top of her class. She practiced as a primary care veterinarian in Michigan and in England, before returning to the States to pursue further training. Dr. Mossman completed her internship at MSPCA-Angell Animal Medical Center in Boston. She then completed her surgical residency at Veterinary Surgical Centers in northern Virginia, where her research included evaluating techniques for tibial plateau leveling osteotomy (TPLO).
She brings compassion and a high standard of care to her work, and enjoys the challenge of a diverse soft tissue and orthopedic caseload, and keeping up with latest techniques and research. Her special interests include pain management, critical care, advanced soft tissue techniques, including skin reconstruction, and minimally invasive techniques, such as laparoscopy and thoracoscopy.
She moved to CT from England, with her husband, their dog, Quimby, and cat, Money Penny. She enjoys travel, outdoor activities, and entertaining friends and family.
Special Interests:
Pain management
Critical care
Minimally invasive techniques
Soft tissue and skin reconstruction