Practice Owner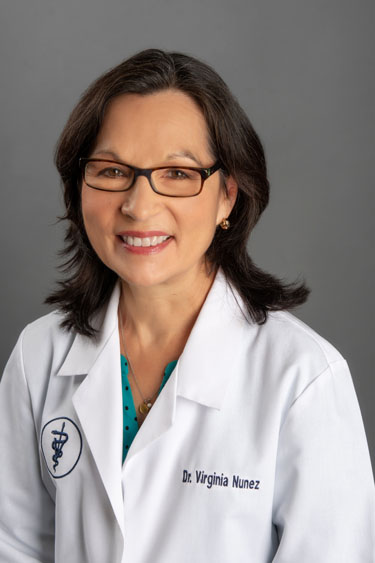 Virginia Nunez Olson, DVM
Practice Owner & Manager
Dr. Virginia Nunez Olson is a practicing Veterinarian at Pieper Veterinary. Connecticut-born and raised, Dr. Nunez graduated from the University of Connecticut in 1977, and went on to the Purdue School of Veterinary Medicine, where she received her DVM in 1981. Following her graduation, Dr. Nunez first worked in a small practice in North Haven, CT, before starting her extensive career at Pieper Veterinary in 1982. She is a member of the AVMA, CVMA, VMG-VSG, serves on the Middlesex Community College Veterinary Technology Program Advisory Board, and the Middlesex Community College Veterinary Technology Institutional Animal Care and Use Committee.
Dr. Nunez enjoys the puzzle-like complexity of internal medicine, managing chronic disease, and working with owners of senior pets where she can witness the deep bond between animals and humans. Working to grow a business that provides a service to society as well as creating an environment where staff members can develop and contribute to an effective veterinary team are what drive Dr. Nunez in her role as practice manager. Pieper Veterinary works to support the education and development of the future of veterinary medicine by partnering with the Middlesex Veterinary Technology and Veterinary Assistant programs.
Pieper Veterinary is a family company, with Dr. Nunez's husband serving as practice co-owner. Her son Ben is also a veterinarian who specializes in neurology, and daughter Tessa obtained her MBA, and joined Pieper Veterinary as Director of Operations in 2017. Finally, there is Sparky, the Olson's black lab who is a beloved fixture of the practice.
Dr. Nunez is passionate about nature, and feels that spending time in the outside helps her relax and appreciate the world beyond the day-to-day routine. In her travels to different countries, she feels invigorated, clear-headed and often returns with some of her best ideas. Dr. Nunez's father was the one who encouraged her to pursue higher education and follow her dreams, because he believed that education was the secret to success.
Special Interests:
Internal medicine
Chronic care
Senior care