Veterinarian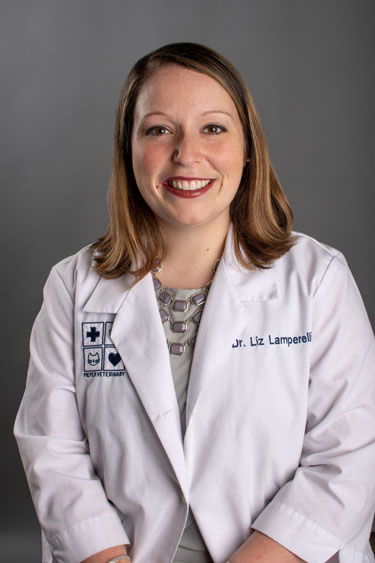 Liz Lamperelli, DVM
Dr. Liz Lamperelli is a veterinarian at Pieper Veterinary with special interests in internal medicine, surgery and exotics. She grew up in Connecticut and graduated from the University of Rhode Island with a Bachelor's degree in Animal Science and Technology in 2014. She obtained her doctorate from Iowa State University College of Veterinary Medicine in 2018 and came home to Connecticut to complete a Small Animal Medicine and Surgery Internship at Pieper in 2019. She is a member of the AVMA, CVMA and the American Association of Feline Practitioners.

Dr. Lamperelli lives with her two cats named Lily and Loki, a chinchilla named Fred, two ferrets named Oscar and Geralt, and a corn snake named Scarlet. She has always had an interest in exotics and pocket pets and hopes to continue to grow in this area of veterinary medicine. Early in her career she spent time volunteering at the Mystic Aquarium and with wildlife rehabilitation organizations.
Dr. Lamperelli's favorite aspect of her job is being able to build relationships with clients and their pets over time. Dr. Lamperelli originally contemplated working in an emergency setting, but found that she would be lacking the lasting human and animal connections that make her feel the most fulfilled as a veterinarian. She loves being available for her clients and patients on both the good days and the hard days.
Outside of work, Dr. Lamperelli enjoys musical theater and choir – both from the audience, as well as from the stage. She's also that person that you will occasionally see walking her cats or ferrets on a leash outside.
Special Interests:
Internal Medicine
Surgery
Pocket pets and exotics