Emergency Veterinarian & Rehabilitation Therapist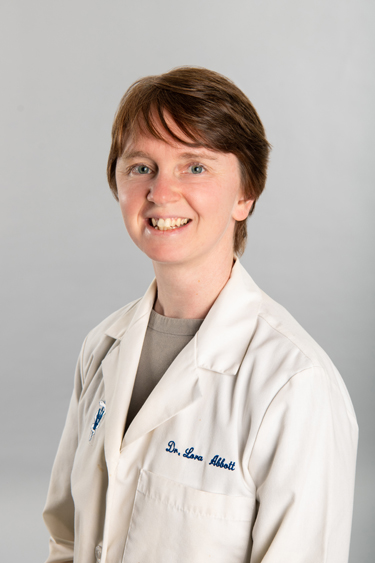 Lora Abbott, DVM, CCRT
Dr. Lora Abbott works in several different capacities at our practice. She has been with Pieper since graduating from University of Tennessee College of Veterinary Medicine in 2009, starting out with the general practice and moved into an overnight/emergency practitioner role when the emergency hospital opened in 2010. In 2016, she began to split her time between emergency medicine and our rehabilitation/physical therapy department and completed her rehab training in 2017 with the Canine Rehabilitation Institute. She continues to split her time between the rehab/PT department, the emergency hospital and the urgent care location in Madison.
Originally from Brooklyn, CT, Dr. Abbott always had a love for animals, but it wasn't until her sophomore year of college when one of her professors, who had previously worked in a mixed animal practice, told enthralling stories of patients she had seen and ailments she was able to fix, that Dr. Abbott became hooked on the idea of becoming a vet. The ability to return pets to having a fulfilling bond with their owners is the passion behind the work she does across all her roles in the hospital.
Dr. Abbott is an avid dog agility competitor, competing annually at national championship events. Her current pack consists of 3 Rat Terriers: 11 year old Kraft, now mostly retired, 6 year old Roots, currently competing, and 1 year old Pick who is just learning the basics still.
Special Interests:
Emergency wound management
Canine behavior and learning
Integrative pain management strategies for geriatric patients, including acupuncture