Emergency Veterinarian & Rehabilitation Therapist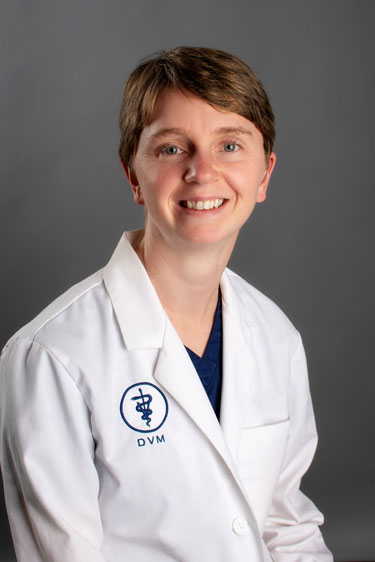 Lora Abbott, DVM, CCRT
Dr. Lora Abbott is an Emergency Veterinarian and Rehabilitation Therapist who specializes in emergency stabilization in trauma and conditioning for canine athletes. Dr. Abbott received her veterinary training from the University of Tennessee after obtaining her undergraduate degree from the University of Connecticut in 2004. Dr. Abbott attended the Canine Rehabilitation Institute in Coral Springs, FL, to receive her CCRT (Certified Canine Rehabilitation Therapist) title. Dr. Abbott has been with Pieper Veterinary since February of 2009.
Originally from Brooklyn, CT, Dr. Abbott always had a love for animals, but it wasn't until her sophomore year of college when one of her professors, who had previously worked in a mixed animal practice, told enthralling stories of patients she had seen and ailments she was able to fix, that Dr. Abbott became hooked on the idea of becoming a vet. The ability to return pets to having a fulfilling bond with their owners is the passion behind the work she does daily.
Her personal pets consist of Marron, a twelve-year-old Jack Russel terrier who loves frisbee chasing and napping, Kraft, a six-year-old rat terrier that she describes as an agility dog and extreme snuggler, and Roots, a one-year-old rat terrier who is blossoming into an agility dog and is an avid squirrel watcher. Dr. Abbott has always been a very active agility competitor and annually competes in national championships. She has qualified for the national finals on several occasions with two different dogs.
Special Interests:
Emergency stabilization
Conditioning
Canine sports