Veterinarian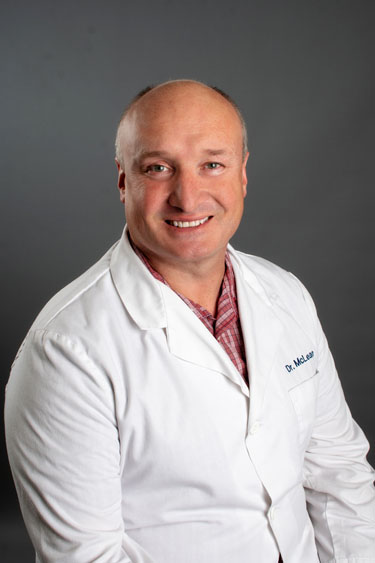 Lance B. McLean, DVM
Dr. Lance McLean has been a Veterinarian at Pieper Veterinary since October of 2001 and has always had primary interests in orthopedic surgery and dermatology, specifically for feline patients. Originally from a village called Harvey in New Brunswick, Canada, Dr. McLean received his DVM from the University of Prince Edward Island Atlantic Veterinary College in 1999. He also graduated from the University of New Brunswick in 1993. He completed a Small Animal Rotating Internship at the University of Saskatchewan Western College of Veterinary Medicine and was a Clinical Associate in Small Animal Surgery at the Western College of Veterinary Medicine. Dr. McLean is a member of the AVMA, CVMA, AAFP, and HCVMA.
After spending his entire life in various parts of Canada to complete his internship in small animal medicine and surgery, Dr. McLean and his wife moved to Connecticut where they bought a home in Moodus. Dr. McLean loves fixing a problem through surgical efforts and finds emergency surgery particularly rewarding. When a life-threatening concern comes through the door, Dr. McLean is prepared to find the solution and help return the animal to an improved quality of life.
Outside of being a veterinarian, Dr. McLean is an avid reader, specifically of the fantasy genre, and has a passion for old cars. Dr. McLean lives with his wife, Lenore, and their two older children, Owen and Grace. Their family pets consist of their pug, Rosie, and a short-haired black cat named Watson. Dr. McLean credits his local veterinarian from growing up, who allowed him to witness procedures, with getting him started on the path to becoming a veterinarian himself.
Special Interests:
Orthopedic surgery
Dermatology
Feline medicine