Boarded Surgeon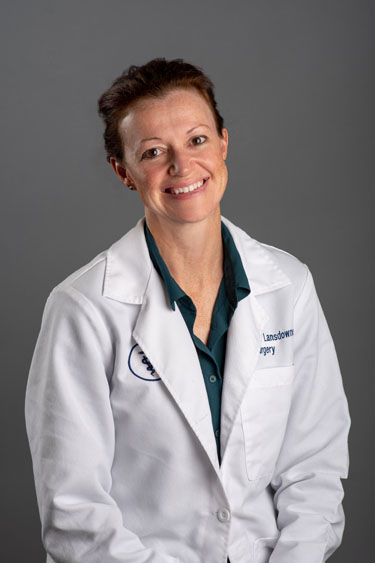 Jennifer L. Lansdowne, DVM, MSc, Diplomate, American College of Veterinary Surgeons - Small Animal, Diplomate, European College of Veterinary Surgeons
Department Head - Surgery
Dr. Jennifer Lansdowne is the Head of Surgery at Pieper Veterinary and has been with the practice since 2012.
Originally from Ontario, Canada, Dr. Lansdowne received her Bachelors of Science in Wildlife Biology from the University of Guelph in 1996, her DVM from the Ontario Veterinary College in 2003, and her Masters of Science in Clinical Studies from the University of Guelph in 2003. Her Masters Degree is in minimally invasive surgery and epidural anesthesia, and she has special interests in both orthopedics and complex oncological surgery. Dr. Lansdowne completed a Small Animal Rotating Internship at Colorado State University followed by an Orthopedic Fellowship and Surgical Residency at Michigan State University. She spent two years in Davos, Switzerland working at the AO Foundation Research Institute and then returned to her true passion of small animal surgery, joining a private practice in Pittsburgh, PA until 2012.
Dr. Lansdowne has written over 20 scientific publications, several orthopedic textbook chapters, and has lectured both nationally and internationally. As well as being a Diplomate of both the American and European Colleges of Veterinary Surgeons, she is an Associate Member of the Veterinary Society of Surgical Oncology (VSSO), an AOVet Active Member, and a member of the AVMA & CVMA. What all this really means is that Dr. Lansdowne wants to help you and your pet understand why you might need a surgeon, and what options are available. She particularly loves to be able to use her training, experience, and skills to help restore a pet's well-being so they can go back to being an active member of their family. All of the pets she sees receive an exceptional level of quality care.
Special Interests:
Orthopedic surgery
Complex oncological surgery
Upper airway surgery
Thoracic surgery
Abdominal surgery
Sample of Publications
Hardy JM, Lansdowne JL, Himsel CA, Freer SR. Surgical retrieval of a guide wire lost during central venous catheterization in a dog. J Vet Emerg Crit Care. 2017 May; 27 (3):342-347.
Lansdowne JL, Devine D, Eberli U, Emans P, Welting TJ, Odekerken JC, Schiuma D, Thalhauser M, Boure L, Zeiter S. Characterization of an ovine bilateral critical sized bone defect iliac wing model to examine treatment modalities based on bone tissue engineering. Biomed Res Int 2014 Feb;250958.
Beck A, Woods S, Lansdowne JL, Arens D. The effects of multiple high-resolution peripheral quantitative computed tomography scans on bone healing in a rabbit radial bone defect model. Bone. 2013 Oct;56(2):312-319.
Lansdowne JL, Mehler SJ, Bouré LP. Minimally invasive abdominal and thoracic surgery: Techniques. Compend Contin Educ Vet. 2012 May;34(5):E2.
Lansdowne JL, Mehler SJ, Bouré LP. Minimally invasive abdominal and thoracic surgery: Principles and instrumentation. Compend Contin Educ Vet. 2012 May;34(5):E1.
Hayashi H, Kim SY, Lansdowne JL, Kapatkin A, Déjardin LM. Evaluation of a Collagenase Generated Osteoarthritis Biomarker in Naturally Occurring Canine Cruciate Disease. Vet Surg 2009 38(1):117-121.
Guiot L, Lansdowne JL, Rouppert P, Stanley B. Hiatal hernia in the dog: A clinical report of four Chinese Shar-pei littermates and review of the literature J Am An Hosp Assoc 2008 44(6):335-34.
Lansdowne JL, Sinnott MT, Déjardin LM, Ting D, Haut RC. In vitro mechanical comparison of screwed, bolted and novel interlocking nail systems to buttress plate fixation in torsion and mediolateral bending Vet Surg 2007 36(4):368-377.
Allison R, Williams P, Lansdowne J, Lappin M, Lindsay D. Fatal hepatic sarcocystosis in a puppy with eosinophilia and eosinophilic peritoneal effusion. Vet Clin Path 2006 35(3):353-357.
Déjardin LM, Lansdowne JL, Sinnott MT, Sidebothem CG, Haut RC. In vitro mechanical evaluation of torsional loading in simulated canine tibiae for a novel hourglass-shaped interlocking nail with a self-tapping tapered locking design. Am J Vet Res 2006 67(4):678-685.
Lansdowne JL, Monnet E, Twedt DC, Dernell WS. Thoracoscopic lung lobectomy for treatment of lung tumors in dogs. Vet Surg 2005 34(5):530-535.
Lansdowne J, Kerr C, Bouré L, Pearce S. Epidural migration of new methylene blue in 0.9% sodium chloride solution or 2% mepivacaine solution following injection into the first intercoccygeal space in foal cadavers and anesthetized foals undergoing laparoscopy. Am J Vet Res 2005 66(8):1324-1329.
Lansdowne J, Bouré L, Pearce S, Kerr C. Comparison of two laparoscopic treatment techniques for experimentally induced abdominal adhesions in pony foals. Am J Vet Res 2004 65(5):681-686.
Martin C, Kerr C, Pearce S, Lansdowne J, Bouré L. Outcome of epidural catheterization for delivery of analgesics in horses: 43 cases (1998-2001). J Am Vet Med Assoc 2003 222(10):1394-1398