Board-Certified Veterinary Oncologist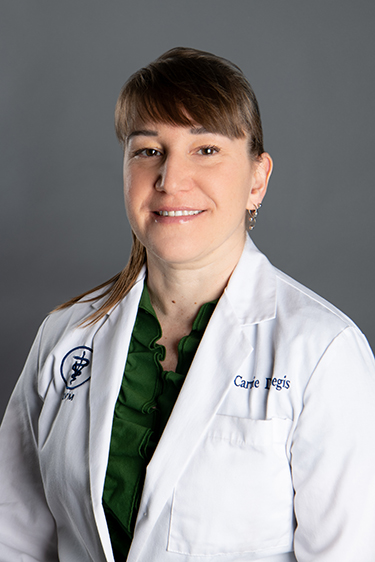 Carrie DeRegis, DVM, PhD, DACVIM (Oncology)
Department Head - Oncology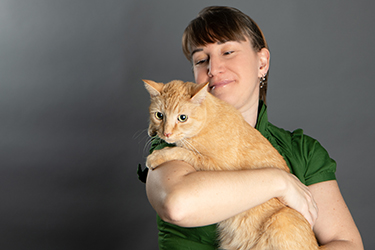 Dr. Carrie DeRegis has been a Veterinary Medical Oncologist at Pieper Veterinary since 2011 following completion of a residency at Tufts University. She received a BS from Cornell University in 1993, an AAS from SUNY Delhi in 1994, her DVM Degree from Tufts University in 2002, and her PhD in molecular biology and comparative biomedical sciences from Cornell University in 2008. Dr. DeRegis is a member of the NHVMA, CVMA, AVMA, ACVIM, VCS, and is a published author on nine different publications, two as first author.​
Dr. DeRegis credits all the wonderful doctors at Pieper Veterinary, from when she worked as kennel help and a veterinary technician, for encouraging her to become a veterinarian. In her spare time, Dr. DeRegis loves to be outdoors, listening to music and attending live shows, cooking in a variety of ethnic styles, and traveling the world. She is an avid board gamer and aspiring game designer. Her personal pets include her three cats Jax, Bijou, and Phvanta.
Journal Articles
Burgess KE, DeRegis CJ. Urologic Oncology. Review. Veterinary Clinics of North America Small Animal Practice. 2019 Mar;49(2):311-323.
Wilson-Robles H, Budke CM, Miller T, Dervisis N, Novosad A, Wright Z, Thamm DH, Vickery K, Burgess K, Childress M, Lori J, Saba C, Rau S, Silver M, Post G, Reeds K, Gillings S, Schleis S, Stein T, Brugmann B, DeRegis C, Smrkovski O, Lawrence J, Laver T. Geographical differences in survival of dogs with non-Hodgkin lymphoma treated with a CHOP based chemotherapy protocol. Veterinary Comparative Oncology. 2017 Dec;15(4):1564-1571.
Boostrom BO, Moore AS, DeRegis CJ, Robat C, Freeman K, Thamm DH. Canine Cutaneous Plasmacytosis: 21 Cases (2005-2015). Journal of Veterinary Internal Medicine 2017;31(4):1074-1080.
Pierro J, Krick E, Flory A, Regan R, DeRegis C, Boudreaux B, Barber L, Saam D, Saba C. Febrile Neutropenia in Cats Treated with Chemotherapy. Veterinary Comparative Oncology 2017;15(2): 550-556.
Burgess KE, DeRegis CJ (presenter), Brown FS, Keating JH. Histologic and Immunohistochemical Characterization of Thymic Epithelial Tumors in the Dog. Veterinary Comparative Oncology 2016;14(2):113-121. Also presented in abstract form at Veterinary Cancer Society 30th Annual Meeting, Oct 2010
DeRegis CJ, Rahl PR, Hoffman GR, Cerione RA, Collins RN. Mutational Analysis of βCOP (Sec26p) Identifies an Appendage Domain Critical for Function. BMC Cell Biology 2008;9(3).
Berghorn KA, Clark PA, Encarnacion B, DeRegis CJ, Folger JK, Morasso MI, Soares MJ, Wolfe MW, Roberson MS. Developmental Expression of the Homeobox Protein Distal-less 3 and its Relationship to Progesterone Production in Mouse Placenta. Journal of Endocrinology, 2005;186:315-323.
Chen CZ, Calero M, DeRegis CJ, Heidtman M, Barlowe C, Collins RC. Genetic Analysis of Yip1p Function Reveals a Requirement for Golgi-Localized Rab Proteins and Rab-GDI. Genetics, 2004;168(4):1827-1841.
DeRegis CJ (presenter), Moore AS, Rand WM, Berg J. Cisplatin and Doxorubicin Toxicosis in Dogs with Osteosarcoma. Journal of Veterinary Internal Medicine, 2003;17:668-673. Also presented in abstract form at Veterinary Cancer Society 21st Annual Meeting, Oct 2001
Abstracts
Kezer K, Barber L, DeRegis C, Mullin C, Sellon R, Breit M, Dank G, Marker B. Clinical Features and Outcomes of Hemophagocytic Histiocytic Sarcoma in Dogs. Veterinary Cancer Society's 36th Annual Meeting Proceedings, 2016
Grant E, Rau S, DeRegis C, Burr H, Burgess K. Efficacy of Lomustine (CCNU) for the Treatment of Primary Gastrointestinal Lymphoma in Dogs. Veterinary Cancer Society's 36th Annual Meeting Proceedings, 2016
DeRegis CJ (presenter), Burgess KE, Cotter SM, Barber LG. Addition of DTIC to a CHOP-Based Protocol for Canine T Cell Lymphoma. Veterinary Cancer Society's 29th Annual Meeting Proceedings, 2009
Rau SE, Barber LG, Cotter SM, Burr H, DeRegis CJ, Gauthier M, Burgess KE. Efficacy of Cerenia TM in the Prevention of Delayed Vomiting Associated with Doxorubicin Administration. Veterinary Cancer Society's 29th Annual Meeting Proceedings, 2009
Bengston AE, Ruslander DM, DeRegis CJ, Moore AS. Retrospective Study of Weight Loss in Animals Receiving Radiation Therapy. Veterinary Cancer Society 21st Annual Meeting Proceedings, 2001
DeRegis CJ, Rozanski EA, Shaw SP, Kent M, Rush JE. Chronic Diaphragmatic Hernia in 12 Animals (1995-1997). International Veterinary Emergency and Critical Care Society Meeting Proceedings, 2000
Martens E, Hritz R, Clifford C, Mullin C, Camero C, Shiu K, Chan C, del Alcazar C, DeRegis C, Lindsay Donnelly L, Marker B, Purzycka K, Vickery K. A Retrospective Review of Chemotherapy-Related Extravasation Events in Dogs and Cats. Veterinary Cancer Society's 42nd Annual Meeting Proceedings, 2022 ​