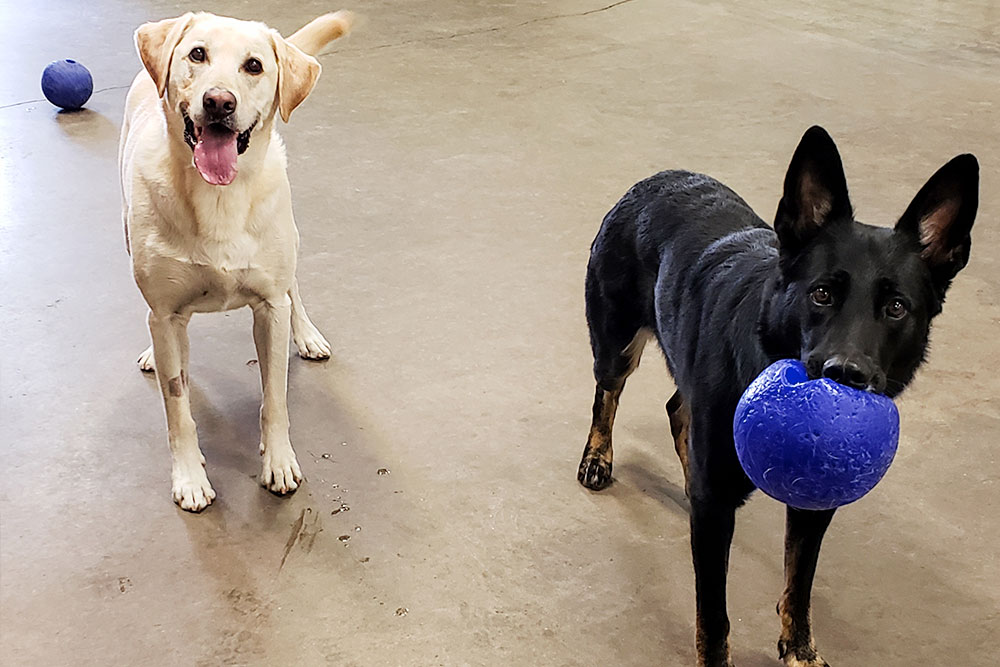 Our Doggie Daycare allows your pup to play, socialize and relax while you're at work or out and about. There are a wide range of activities scheduled throughout the day, including indoor and outdoor playtime, tons of socialization, individual attention from the staff, and of course an afternoon nap! Many clients even see improved behavior at home after starting daycare!
Our daycare staff are highly trained in pack management, dog body language, and safety and fight protocol. Our staff only use positive reinforcement dog training methods and natural motivators such as toys, treats, praise, and attention to reinforce good behavior. Dogs are never submitted to threats, punishment, yelling, or adverse techniques.
How to get started
New dogs must first go through a testing session to make sure they get along with the rest of the pack. Tests are done Mondays, Wednesdays, Thursdays, and Fridays. If your dog does well, they can remain in daycare for the rest of the session or day!
For more information and to schedule a test or daycare session, call (860) 347-1122 ext. 1129.
Daycare schedule & location
Daycare is open Monday through Friday, 8:30 am – 5:30 pm at our Middletown office on Randolph Road.
Daycare starts promptly at 8:30 am for the morning or full-day sessions, or at 1:30 pm for the afternoon session – so don't be late! It's important your pup is here from the very beginning of the day so he or she can be introduced properly to the pack that is there for that day.
Who can come?
Dogs of all ages and sizes are welcome.
Dogs must have been spayed or neutered, if over 6 months.
Dogs must have updated vaccinations (distemper, rabies, Bordetella, and canine influenza).
Dogs must have had a negative fecal test within the last year and must be on heartworm prevention.
Dogs must be free of fleas and ticks.
Doggy daycare pricing
Test Fee: $13 plus tax
Half Day: $13 plus tax
Full Day: $23 plus tax