Pieper Veterinary is excited to offer dog and puppy obedience classes.
All dogs must have been vet checked, vaccinated, and living in your home for at least one week prior to the start of classes. Proof of current Bordetella, Parvo, and distemper required for all classes. Rabies shots are required for dogs 12 weeks and older.
For questions or to enroll in a class, call (860) 347-1122 x1129.
This introductory class is perfect for dogs of any age that are just beginning training. You will learn to teach your dog to pay attention when asked, greet politely, come when called, walk on a loose leash, lie down, stay, and more! Management skills, socialization, and problem solving will also be addressed. Classes are limited to six.
About the Instructor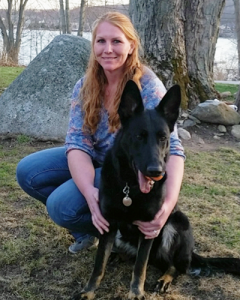 Jessica started at our Marlborough Animal Hospital in 2002, working her way up from kennel assistant to veterinary assistant. During this time she enrolled her dog Quincy in puppy kindergarten at Tails-U-Win, a dog training center owned by Leslie Nelson. From there she became more involved at Tails-U-Win, assisting in the Family Dog Program, and also other dog sports such as dock diving, agility, and Rally Obedience. Starting in 2012 she has co-taught three classes each week with Leslie. In the meantime, Jessica transferred from our Marlborough office to our Middletown office. She became the manager of Doggie Daycare at Pieper Veterinary around seven years ago. She offers Puppy Kindergarten and Family Dog classes. Outside of work she participates in a wide variety of dog activities with her German shepherd dog named Cole. Jessica and her husband Joe also share their home with their Pomeranian named Marilyn.