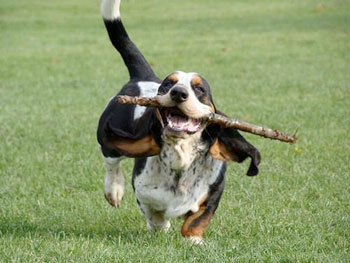 Our overnight pet boarding facilities are designed to keep your pet happy, active, and carefree while you're away. Our receptionists and techs love giving our visiting pets tons of play and cuddle time!
Boarding locations
Pieper Veterinary's Middletown location on Randolph Road houses our main boarding facility for cats and dogs. Additionally, we offer cat-only boarding at our East Haddam facility.
For reservations
Please call ahead to make a reservation: (860) 347-1122 ext. 1129. We look forward to meeting your pet!
What to bring
We provide Hill's Science Diet for your pet while boarding. You are also welcome to bring in your own food.
Feel free to bring your pet's favorite toy or blanket from home, or choose one from our expanded retail area!
If your pet has special needs, we can administer medications and fluids while they are staying with us.
All diabetic are boarded in our hospital through our medical boarding service.
Drop-off & pick-up times
Middletown Boarding Facility Hours:
Monday through Friday: 7:30 am – 8:00 pm
Saturday & Sunday: 8:00 am – 6:00 pm
At our other locations, drop-off and pick-up is available during regular business hours.
---
Dog boarding
Your dog will enjoy a spacious, climate-controlled sleeping area with heated floors. They will also have access to indoor and outdoor play areas and personalized attention from our staff. We offer a multi-dog discount.
Suite options:
Loft
6 x 4 feet
Upper level of kennel
15-minute play sessions
$25/night
Deluxe
11 x 6 feet
Lower level of kennel
Raised dog bed
15-minute play sessions
$29/night
VIP
11 x 6 feet
Lower level of kennel
Raised dog bed
30-minute play sessions
Scented bath on day of discharge
$33/night
While your dog is here...
Consider signing your dog up for doggie daycare for additional exercise while boarding. After staff approval to make sure they play well with others, your dog will enjoy tons of indoor and outdoor play and socialization from 8 am – 5 pm, Monday through Friday.
Dog training classes can also be scheduled during your dog's stay with us.
Cat boarding
Your kitty will enjoy a tranquil feline-only boarding area designed as an indoor jungle where cats can relax and enjoy the sounds and sights of nature.
Suite options:
Single Condo
3 x 3 feet
Single level
Houses 1 cat
$20/night
Double Condo
3 x 3 feet
Two levels; allows for climbing and maximum perching ability
Houses 1-2 cats
Per cat: $17.50/night