Posted on
Why Is My Veterinarian So Busy?!
If you've taken a trip to the veterinarian sometime over the past several months, you may have noticed that things seemed different during your visit. If you called your primary care hospital to ask about coming in that day, you were likely told that the schedule was full and that you'd need to wait several days or weeks for your pet to see a doctor. If you went to an emergency or urgent care hospital you may have found yourself waiting for several hours for your pet to be admitted. Wait times and busy schedules have always existed, but over the last year they've started climbing rapidly – and there's no sign of them slowing down.
So why are veterinarians so busy?
The Pandemic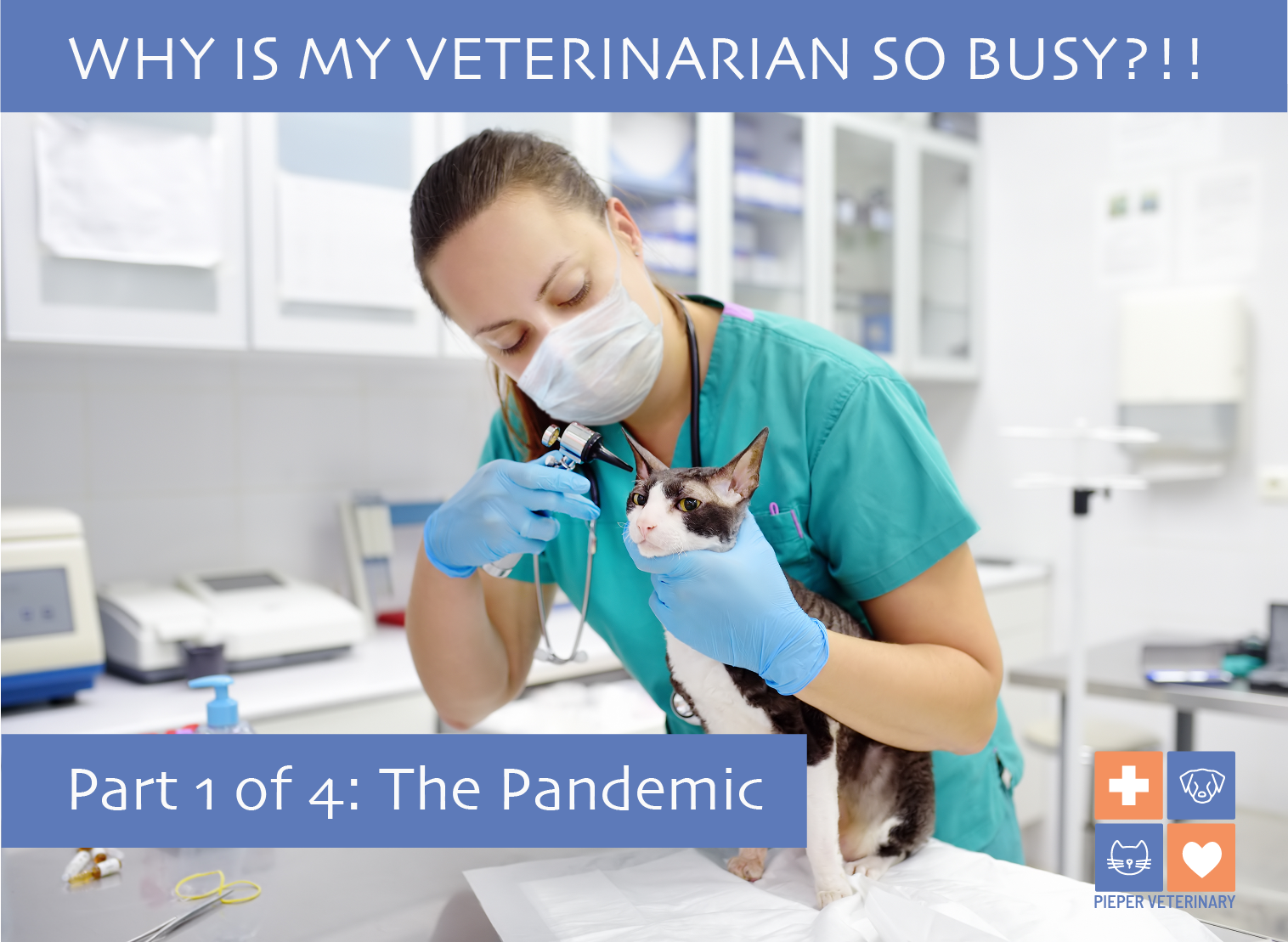 There's several answers to this question, and the first, most obvious one, is the COVID-19 pandemic. This presented a unique challenge for the veterinary industry – even though our staff and clients were at risk of getting ill, simply closing our doors to sick pets wasn't an option we were willing to consider. Many hospitals switched to curbside service, where pets are brought into the hospital while their owner waits outside to speak with the vet over the phone. Although safest, this method slowed down our hospital processes and appointments significantly. For both the staff inside and the pet parents waiting, the extra steps for a curbside appointment - calling to check in, going out to the car, calling during the visit, going back out, calling to pay - meant a lot more extra work and, as a result, extra time. When each visit takes longer to complete, that means less visits can be seen in a single day.
Plus, curbside protocols weren't rolled out overnight – during the first months of the pandemic, many hospitals had to temporarily close for periods of time – whether it was due to staff shortages, COVID infections, or out of an abundance of caution. Even when they re-opened, hospitals were often operating on reduced hours, not able to see new patients, or only seeing patients with urgent needs. Along with curbside, it means that the number of available appointments was very limited . Elective surgeries like spays and neuters and "wellness" visits (annual exams and vaccines) were pushed out for months, and many hospitals are still struggling to catch up with the backlog now.
The bottleneck from the pandemic may seem simple, but it's only one part of the problem.
New Pets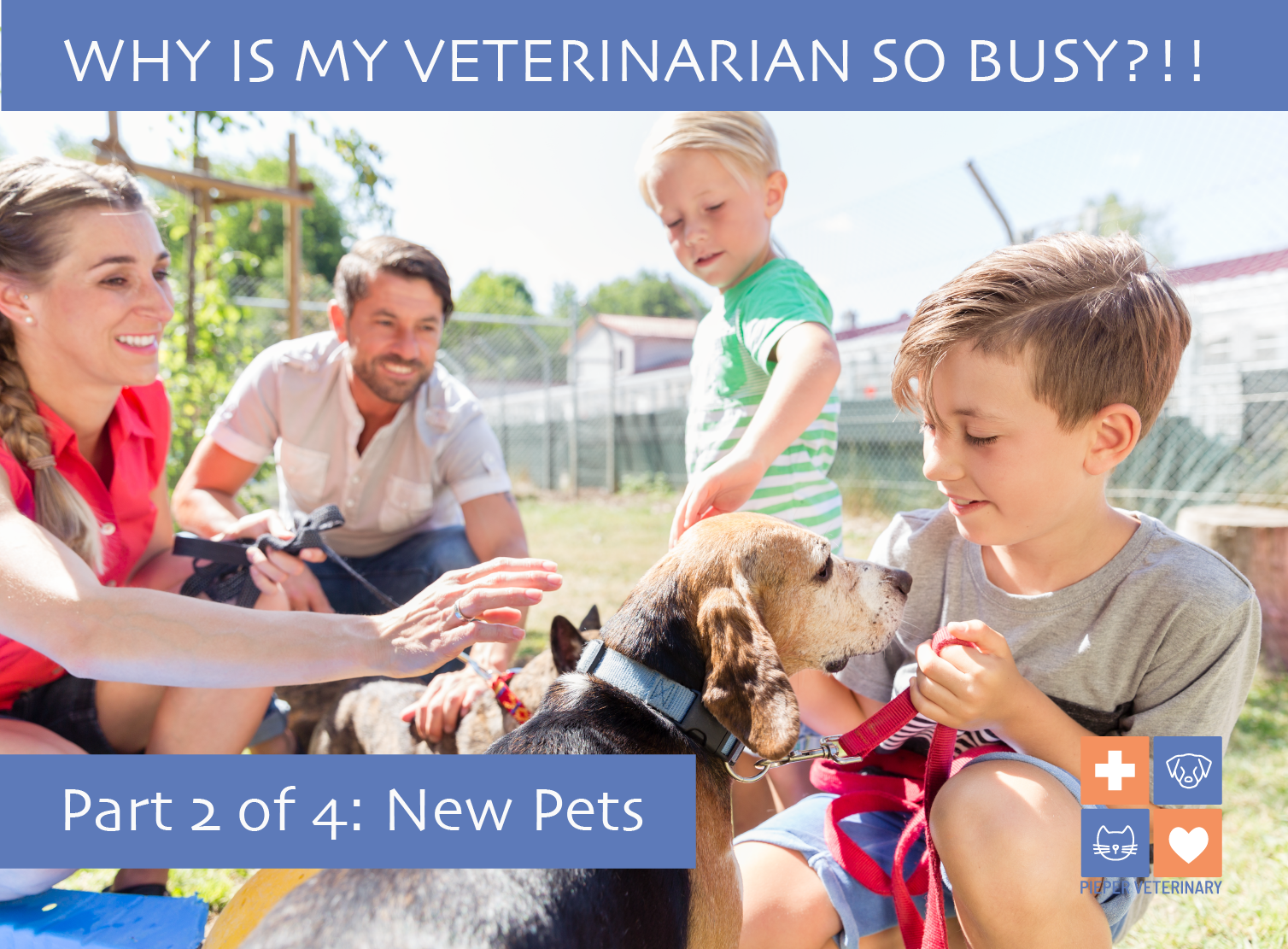 Another reason for all the traffic at veterinary hospitals is the huge numbers of new patients. Across the country, many families adopted new pets to help keep them company during the lockdown. But more pets also means more vet visits. All new pets should be seen by a veterinarian soon after you bring them home, and that goes extra for puppies and kittens who will need to be seen for multiple visits to receive their vaccine boosters. New pets also often take a while to settle into their new homes, and during that period tend to get into trouble – like getting into scuffles with other pets, running away, or eating something dangerous. This surge of new pets came at the same time that many hospitals were closing or limiting their hours, and that meant that the backlog of patients trying to get an appointment suddenly skyrocketed. Whereas before a doctor might have two or three clients on their wait list for a day, many hospitals found themselves with wait lists equal to booking their whole day two or three times over. Even well over a year into the pandemic, new patients are still on the rise as more and more people welcome new pets for companionship.
For a small general practice hospital working with a packed schedule, many patients who they would normally be able to "squeeze in" now get referred to an emergency room instead, even if the problem itself is not life-threatening. For the emergency hospitals on the receiving end of these referrals, all of these "overflow" patients add up rapidly. ERs everywhere are now easily running into wait times double or triple what they would normally have, and Connecticut has been no exception.
Staff Shortages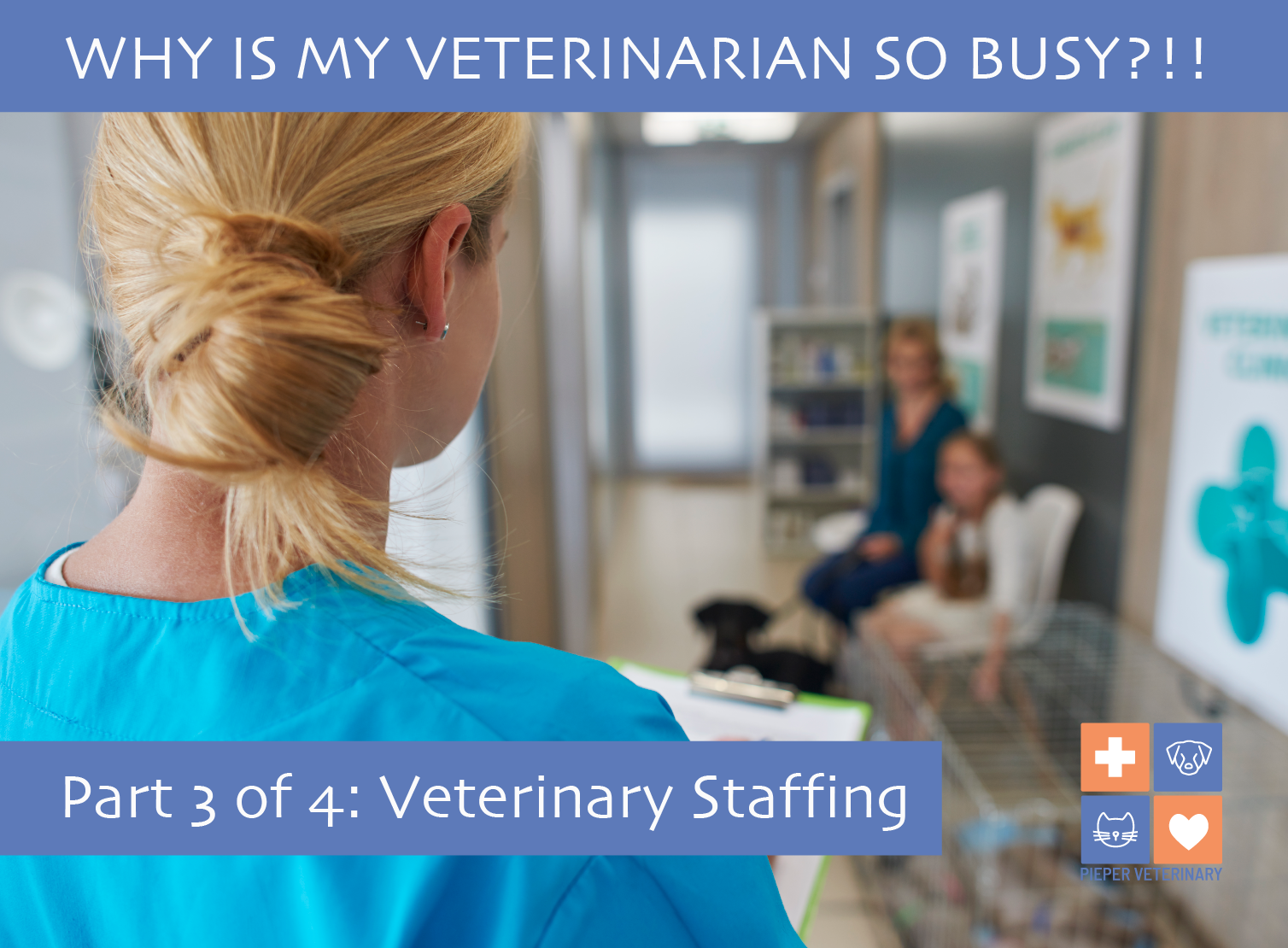 One of the biggest reasons is also one that's less obvious – veterinary staff. Specifically, there is a country-wide shortage of veterinarians, assistants, and technicians. This industry has a well-earned reputation for being a difficult one to work in – the physical labor of handling and restraining large animals, injuries from bites and scratches, long hours on your feet, and the heavy emotional burden of working with suffering animals and euthanasia can be a lot for even seasoned veterinary staff. There's also a small but growing number of pet owners who take out their frustrations and grief on the veterinary staff, and verbal abuse and threats are sadly not uncommon - every tech and assistant has experiences of being insulted and treated badly by upset clients.
All these factors mean that the burn-out rate for techs and assistants is very high, and especially with the growing pressures of the last year hospitals are seeing an unprecedented rate of turnover amongst their staff – and there simply are not enough new applicants to make up for the loss. The infrastructure of veterinary hospitals is in danger of crumbling.
The same holds true for the doctors themselves, in all disciplines but felt most acutely in emergency medicine. Schooling is highly competitive and priced to match – the average veterinary student graduates with almost $200,000 of student debt along with their doctorate, and that number rises every year. The combination of high debt, physical exhaustion, emotional burnout, and abusive clientele means that veterinary workers have one of the highest rates of suicide in the US, with techs and doctors anywhere from two to five times more likely to commit suicide than the average person. The staff shortage and high turnover rate isn't simply people looking for a change of scenery – often people leave because they feel they have no other choice for their own mental health.
This problem may be one the average pet owner isn't aware of, but it's an extremely important factor when we look at the bigger picture.
How You Can Help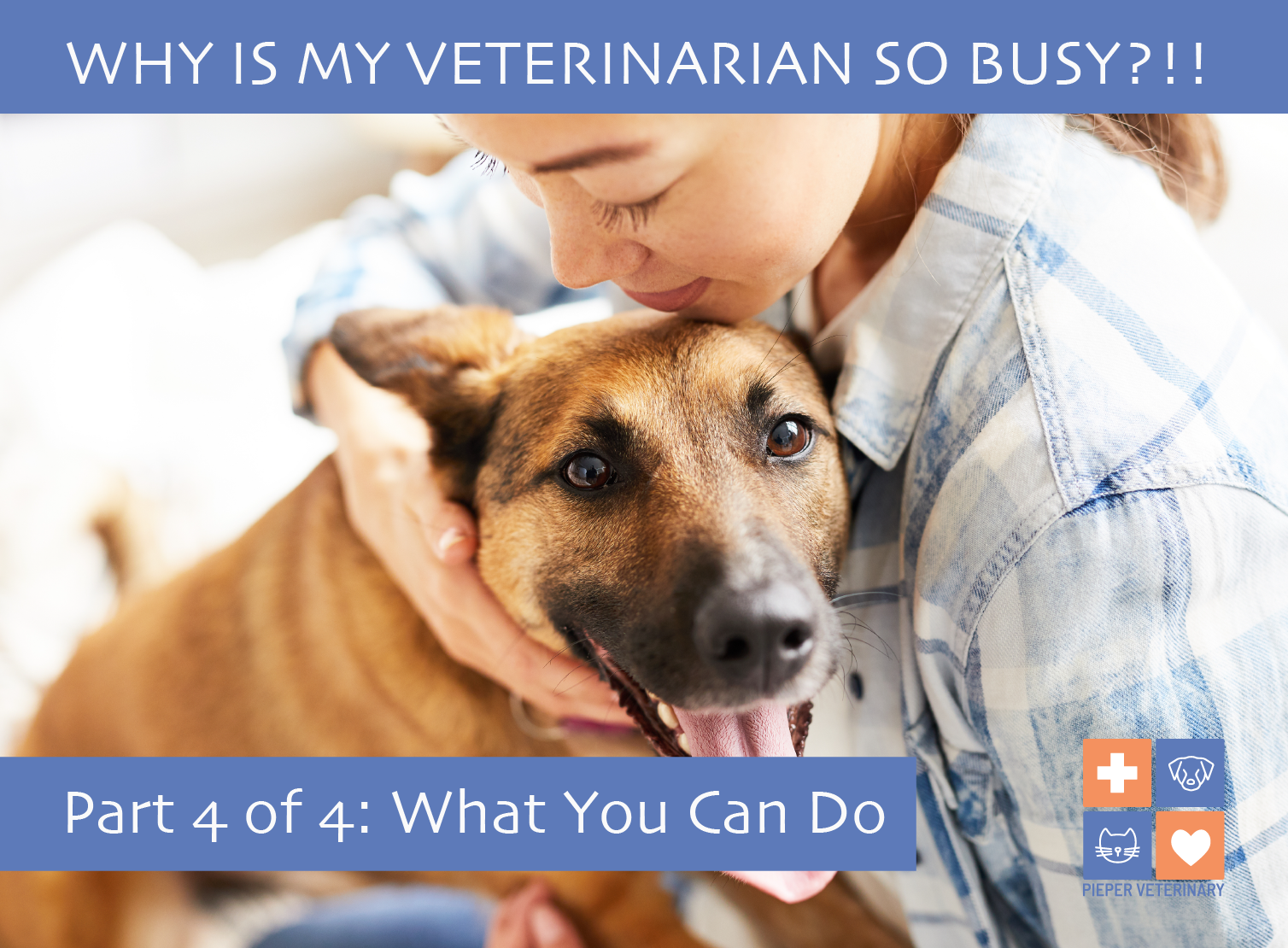 The current state of the veterinary industry is not due to one problem, but many different ones - the sharp increase in new pets, the closures from the pandemic, limited hospital capacity, a shortage of veterinary staff, and the emotional and financial stress across the country. One or two of these problems would be manageable, but all of them combined are overwhelming.
This is the current state of veterinary medicine – high demand and low supply. And unless we start seeing the number of new patients slow down and the number of veterinary staff and resources start growing, this is how things will remain for the foreseeable future.
So what can you, as a pet owner and client, do to help? It's always easier to treat things before they get too serious. Make appointments for routine care early, even weeks or months in advance. Ensure your pets stay on their preventative medications like heartworm and flea and tick meds to avoid illness. If your pet is sick but it's not an emergency, make an appointment with your regular vet if at all possible. If you do need to come to the emergency room, please expect a long wait. ERs see patients based on severity of illness, not in order of arrival. This can be frustrating for people who wait many hours with an uncomfortable pet - but the patients that come in before you are in critical condition and their lives are at risk, regardless of how they may appear to you. "Whose pet is more sick" is not a fight you ever want to win.
And importantly, please remember to be kind to the veterinary staff – frustration and anxiety at the situation is understandable, but taking that anger out on the staff is never acceptable, especially during times like these when veterinary professionals are trying to handle the overflow as best as they can. Remember that this isn't a case of you and your pet versus the veterinary staff. It's you and your pet and the veterinarian versus your pet's illness. We are all working on the same team, and we all are fighting for the same goal – to help your pet in any way possible.
A brief moment of empathy can leave a huge impression on someone. We thank you for following along this week as we discussed the state of the veterinary industry, and hope this information was informative as we all navigate through this changing world. Things are hard, but we're here to help. From all of us at Pieper (and hospitals everywhere), thank you for being kind.
---